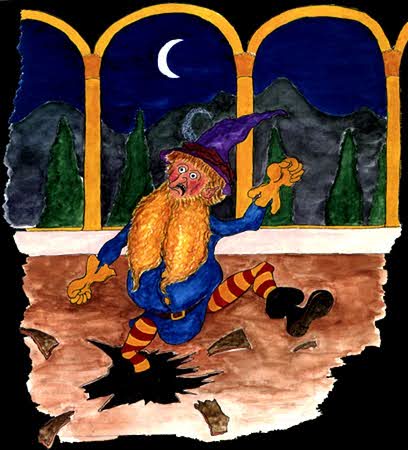 R
umpelstiltskin, remember him? The gnome who turned straw to gold? The vicious, slimy goofer who wreaked more havoc than made fortune? He's back. But in a different mould. You wouldn't be able to recognize him anymore; he is no longer a gnome. His antics are no longer puerile gnomery or sophisticated alchemy. He is now big and monstrous, an overpowering, scary, obscure vision that could drive you to the edge of insanity. So big a vision, he cannot be beheld in human sight, by human eyes.
He is a huge, gargantuan thing that flies from one end of the world to another: Air Force One. His place unfixed, his life uncompromised. He is the bellowing, chiding man who walks briskly at airports, keeping apace with his protective clique. President Sam!
He stops at slums and steps out of his cavalcade. He wishes the dwellers well. A charitable gesture. But usually, the slums are few and far between. Because most of them have been razed and 'cleaned', most men, women and children evicted and removed. The municipality makes no compromises. No bilge must fall in the Presidential Gaze. No dirty, ragged rabblement in the Presidential Trail. Yes, of course few can remain, as it would be too farcical to not have a single slum in India; his Presidential cynicism would be evoked.
Along the road, genuflecting ministers keel his path with gaudy garlands and ready lips, eager to smack the Presidential Anatomy from head to toe. Also, let us not forget their oily, glib paeans, terrible-sounding praises designed for visa benefits.
Rumplestiltskin walks on. He stands on a pulpit at the Old Fort (aka Purana Qila) and drones on for a while. He makes a smattering of speeches and rouses the illiterate masses. Lofty praises for Uncle Sam, lofty panegyrics for all of Uncle's Nephews and Nieces. He goes on speaking at length, rolling the 'r' in his typical North American drawl, mentioning 'I-Ran' and 'I-Raq' en passant.
Oh yeah, he ain't nothin' but back!